Streamline recommends "Beautiful Boy" on Amazon Prime this week. Amazon added this movie on Jan. 4. The company distributed the movie, which debuted in theaters back in October 2018.
Premise: A journalist's son gets addicted to crystal meth and can't quit. The father makes various attempts to help his son, including taking a journalist's approach to the problem through extensive research. But the drug continues to take over both their lives.
Stars: Steve Carell, Timothée Chalamet, Amy Ryan and Maura Tierney.
How excited should you be? Chalamet earned a Golden Globe nomination for his performance as the "beautiful boy" addicted to crystal meth. The interactions between Chalamet and Carrell anchor this movie and are worth seeing. This has little to do with the storyline, but the family also lives in a beautiful house that made me envious.
Any reasons to be skeptical? Most of this movie is good to great, but a solid chunk is pretty bad. Numerous moments veer way too close to having the feel of a government PSA about drugs, with melodramatic acting of lackluster dialogue paired with saccharine music choices. At a roughly two-hour runtime, the movie didn't need to devote so many minutes to Chalamet writhing around in the same ways to bludgeon the point that crystal meth ruins lives. It also doesn't help that almost all of these bad elements come in the second half of the movie, making you think you're watching a great movie that then collapses.
Will everyone be talking about this? It already had a theatrical run that didn't have a stellar box office. People love Chalamet right now, though, so you might find that a few friends watch the movie.
Check out the trailer for "Beautiful Boy" below.
Read on for more recommendations.
And if you want to stay up to date with what to watch on a weekly basis, subscribe to the Streamline newsletter.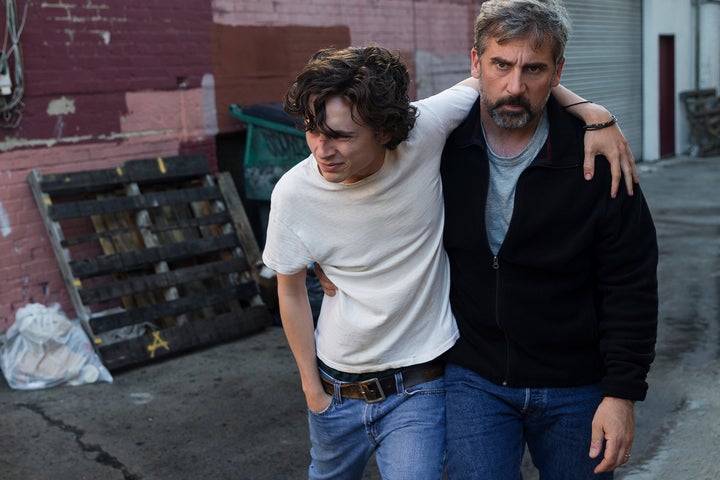 What Else Is New This Week
"Sherlock Gnomes" joins Amazon! Something called "Breaking Big" that is not related to "Breaking Bad." Maybe just watch "Beautiful Boy" or catch up on "The Marvelous Mrs. Maisel" if you haven't already.
The full Amazon Prime list for the rest of the week:
Jan. 1
A Beautiful Mind
Alpha Dog
Brazil
Breaking Big, Season 1
First Civilizations, Season 1
Frontline, Season 36
GI Jews: Jewish Americans in World War II
Going to War
Jane Eyre
Nova Wonders, Season 1
Reprisal
Rwanda: The Royal Tour
The Art of the Shine
The Jazz Ambassadors
Willy Wonka & the Chocolate Factory
Jan. 3
Jan. 4
Beautiful Boy
Sherlock Gnomes