The first reviews for Mary Poppins Returns have begun popping online, but does the magical nanny's sequel live up to expectation?
Starring Sicario's Emily Blunt in the iconic title role, it looks like this nostalgic piece of candyfloss cinema has won over the majority of critics – but before we see what everyone else is saying, here's what we thought of the film.
Advertisement – Continue Reading Below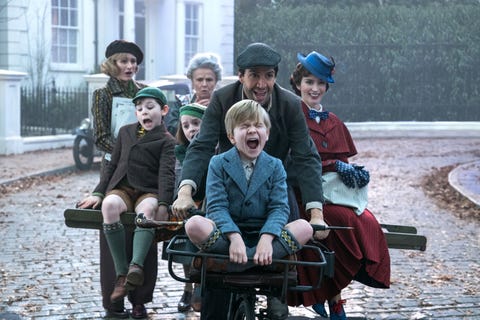 Disney
"A whopping 54 years after it was released, Disney's Mary Poppins finally gets a sequel and – thank heavens – Mary Poppins Returns is just as charming and lovely as the original.
"It's the casting of Mary Poppins herself that is key, and Emily Blunt absolutely nails it. Straight-backed, prim and speaking in clipped tones, she captures the essence of Julie Andrews' Mary while making the role her own. Following on from her gripping turn in A Quiet Place in the spring, her performance here surely brings her into the running for a Best Actress Oscar nomination – and that golden statue would be very well deserved."
Check out what everyone else is saying below.
"Mary Poppins Returns never stops looking back. That's the film's essential quality — its majestic cornball MO. Yet in recreating, with so much meticulous love, the sensory and emotional contact high of Mary Poppins, the movie does something that points forward instead of back. It says: What if we could actually feel this way now? Maybe we could come out the other side."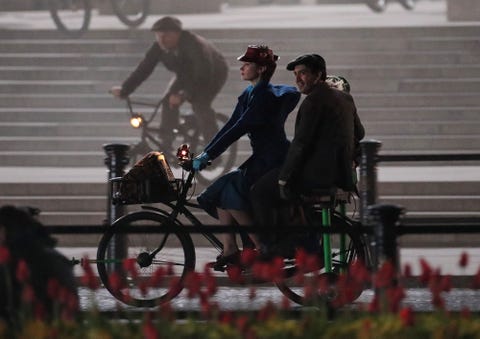 PA Images
Advertisement – Continue Reading Below
Related: Mary Poppins Returns cast, release date, trailer and everything you need to know about the Disney reboot
"What stands out most about Mary Poppins Returns is its heart; even more than the original, it opts for sentimentality over subtlety, but much like this year's equally charming Paddington 2, its earnest intentions never tip it too far into eye-roll territory. Its life lessons may be a bit too on-the-nose for some adults, but it's clear that now, just as in 1964, Mary Poppins has plenty to teach us."

"A generation of kids raised on Minions is about to be bored into submission, and they'll be all the better for it. And yet, however refreshing the plotlessness and relative purity of Mary Poppins Returns might be, there's a fine line between 'nostalgic' and 'out of touch' — between revisiting the past and living in denial of the present.

"There's nothing wrong with telling kids to see the bright side of life, but this half-hearted throwback doesn't offer many compelling reasons why they should. For a movie that so insistently celebrates the power of imagination, [Rob] Marshall's latest puts little of its own on display. For a movie about the pleasure of seeing things from a new perspective, it only works when it retreads familiar ground. And for a movie about the joy of escapism, Mary Poppins Returns seldom gives you anywhere to go."
"Diehard fans of the first film will very probably love this sequel, for the undoubted detail and fervour with which it reproduces the template, though with a little more of a Broadway feel than it had in 1964. I admire it for its craftsmanship and technique, like a machine for creating nostalgia".

Mary Poppins Returns is in US cinemas on December 19 and UK cinemas on December 21.
---
Want up-to-the-minute entertainment news and features? Just hit 'Like' on our Digital Spy Facebook page and 'Follow' on our @digitalspy Instagram and Twitter account.