LGBT activists said it was a major blow to the island's reputation as a rights trailblazer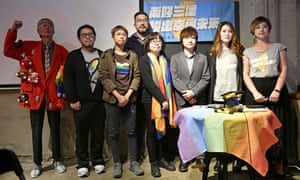 China has welcomed the defeat of Taiwan's pro-independence ruling Democratic Progressive party (DPP) at local elections, saying it showed people wanted peaceful relations with Beijing.
As well as dealing a major blow to president Tsai Ing-wen's hopes of re-election in 2020, voters also backed anti-gay marriage referendums in what LGBT activists said was a major blow to the island's reputation as a rights trailblazer.
The results forced Tsai to quit as DPP leader as the Beijing-friendly main opposition Kuomintang (KMT) made gains in the face of China's increasing pressure on the island.
The DPP has now been left in control of only six of Taiwan's cities and counties, compared with at least 15 for the KMT. The losses included one of its most steadfast strongholds, the southern city of Kaohsiung.
"The (election) results reflected the strong will of the Taiwan public in hoping to continue to share the benefits of the peaceful development of relations across the Taiwan Strait, and their strong wish in hoping to improve the island's economy and people's wellbeing," said a statement by China's policy-making Taiwan Affairs Office and carried by state media.
As well as voting for seats from village to city level, there were 10 referendums on the ballot, including pro- and anti-gay marriage proposals.
A referendum calling for marriage to only be recognised as between a man and a woman in Taiwan's civil code won more than 7m votes, while another calling for same-sex unions to be regulated under a separate law gained more than 6m.
Gay rights activists had proposed that the civil code should give same-sex couples equal marriage rights, but only garnered 3m votes.
The Coalition for the Happiness of our Next Generation said the win was a "victory of all people who treasure family values".
Jennifer Lu, a spokeswoman for Marriage Equality Coalition Taiwan, said they were saddened by what she described as the "absurd referendums" and blamed government "incompetence" for allowing the anti-gay marriage votes to go ahead.
Taiwan's top court legalised same-sex marriage in May 2017, the first place in Asia to do so, and ruled that it must be brought in within two years, but the government has made little progress in the face of opposition from conservative groups.
Although the government has clearly stated that the referendum results will not impact the court's original decision to legalise gay marriage, LGBT campaigners worry that their newly won rights will be weakened.
With the conservative vote passing the threshold of 25% of eligible electors, under referendum law the government must take steps to reflect the result.
Tsai and the DPP have faced a mounting backlash over domestic reforms as well as concerns about deteriorating ties with China, which still sees self-ruling Taiwan as part of its territory to be reunified.
Tsai told reporters that she would take "complete responsibility" for the defeat as she resigned as chair of the party.
Beijing has intensified pressure on Taiwan under Tsai, upping military drills, poaching diplomatic allies and successfully convincing international businesses to list the island as part of China on their websites.
The DPP is traditionally pro-independence and Tsai has refused to acknowledge Beijing's stance that Taiwan is part of "one China", unlike her KMT predecessor Ma Ying-jeou.
Ahead of the vote, Tsai and DPP officials repeatedly accused China of meddling in the lead-up to the elections by operating a "fake news" campaign. Beijing has denied the allegations.